App users returned to apps more often in 2015 than they did in 2014, according to data collected by app analytics platform Localytics. The news comes from the company's latest App Stickiness report, where it examines how users are engaging with apps, and how often they are returning to them over a period of several months. The new report provides insight into how apps performed over 2015.
According to the stats, app users in 2015 returned to apps more than 10 times each month, giving a final engagement rating of 31%. This represents a considerable jump from 2014, when the number was 26%. Localytics estimates that in 2012 and 2013, there was only a single percentage point rise in app engagement.
Localytics new data shows app stickiness is at a high point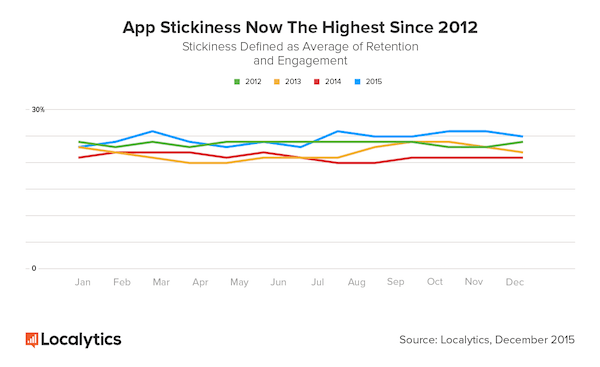 Retention also improved in 2015, with 18% of users returning to an app three months after downloading it — the highest rating since 2013. These figures were averaged out to give a 25% App Stickiness rate for the year, the best figure seen since 2012. Localytics also examined app launches, a number that steadily rose throughout the year, starting at 10.6 launches on average in January, and ending the year on 12.6.
These improvements are positive for app developers and publishers, but Localytics quickly points out the negative side — that 82% of users have abandoned an app after three months, and 69% return to an app fewer than 10 times each month.
Localytics data on app launches shows a steadily rising figure throughout 2015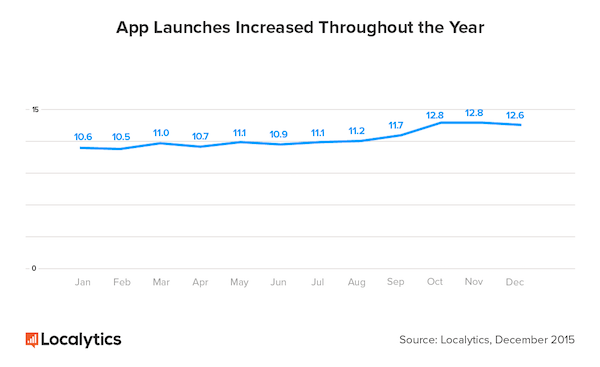 Digging deeper into the stats, the report shows that media and entertainment apps came out on top, at least when examined by stickiness, returning 29% for 2015 — its highest for three years. Technology apps, which also seems to include enterprise apps, also saw its best return for three years, with a 22% average stickiness result.
You can read the complete report on Localytics website here, or visit the company's profile to learn more about it here.