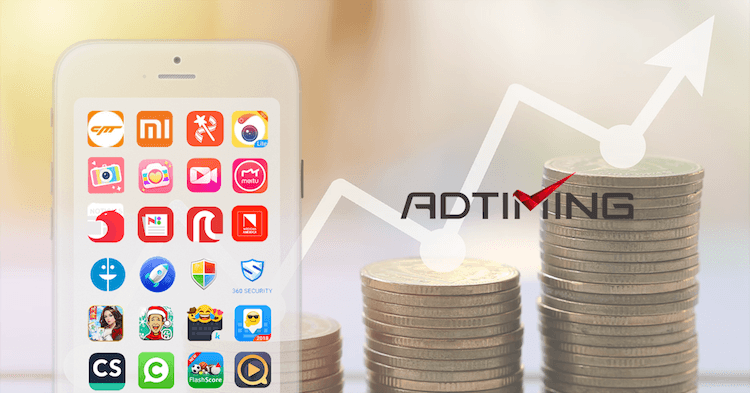 In recent years, with the explosive growth of the global mobile Internet, developers have been discussing the product forms, globalization trends, and channel resources, and the discussion about app monetization and advertising ecosystem has also attracted the attention of all parties. In fact, the top issue that most app developers are concerned about today is related to Ad Revenue.
To solve developers' concerns, AdTiming, a global premium mobile marketing platform founded in 2016, officially launched a new generation mobile ad mediation and monetization platform this year. The new platform levers accumulated technical strength and global mobile marketing resources, enabling global developers to have a holistic and efficient monetization solution, enjoy professional services, and maximize their revenue. It is reported that the AdTiming Mediation Platform has now integrated with more than 1,500 global applications developers, over 30 Ad networks,  covering a diverse range of apps including e-commerce, game, utility, and social media, etc.
AdTiming Monetization Platform runs over 5,000 daily active campaigns, reaches 1.2 billion users, and delivers more than 500 million daily impressions.
The report illustrates the advantages of AdTiming's mediation and monetization platform compare to traditional counterparts.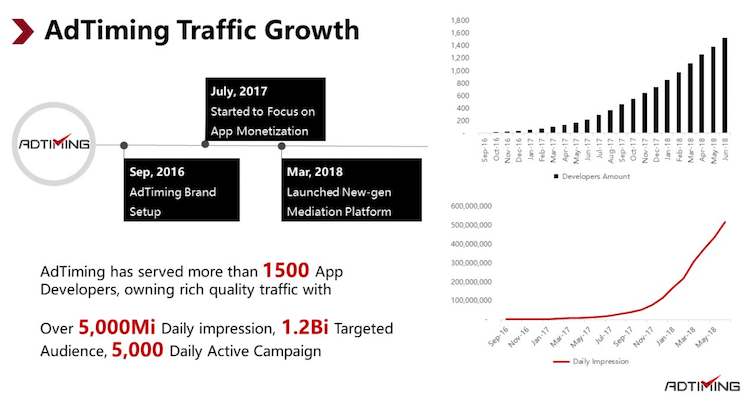 Differ from the segment platform practices, AdTiming not only acquires data but also matches the data to certain user groups to analyze. The figures are set to be displayed to developers, which will allow them to adjust the priority and program weight.
AdTiming's unique double-way tagging system (consists of user tags and media tags). Every conversion data is fed back to the media and user tags, then the system continuously adjust and optimize traffic tags (country, source, app, ad placement, ad format, size, etc) and user tags (gender, age, real-time interests, long-term interests, industry interested, etc) according to the conversion rate. Converting the advertising tags into user tags according to each campaign content, the feeding content will be more precise as the campaign duration grows, hence enable the revenue to grow steadily.
AdTiming mediation and monetization platform records the user display frequency towards each Network,

 

Meanwhile, fetch and analyze user behavior data of each campaign. The final procedure is to predict user's correlation with each Ad network based on the analyzed pattern, so as to carry out the maximized single ad display to further improve overall revenue.

 
There is no doubt that monetization is a relatively stable way to increase revenue, but how to balance the user experience and Ad revenue is a big challenge for developers. In response, Mr. Yang Huanhuan, the CEO of AdTiming, addressed in a keynote speech in 2018 GMIC Beijing, "for ads display, developers need to match campaigns according to traffic characteristics under different stages. To better serve developers, ad networks need to know their customers better than they do. As a technology-oriented and data-driven mobile marketing platform, AdTiming is looking forward to having in-depth cooperation with advertisers and developers to achieve mutual  prosperity."
As incentive video ads get more pervasive, the importance of creatives and formats are becoming more significant. The existing ad formats are rather monotonous, mostly are video ads or the picture-video combination. They would get less attractive to users as display frequency increases. To fix this issue, AdTiming created an open-source live-commenting ad display format – AdMuing, allowing game developers to uplift their monetization efficiency meanwhile optimize the user experience.
 With large-scale platform, stable earnings, and innovative ad formats, many world-renowned app developers are reported collaborating with AdTiming mediation and monetization platform.
AdTiming Partners
Xiaomi phones
According to strategy analytics' report, Xiaomi sold up to 23.2 million mobile phones, with a market share of 6.4%, ranks the fifth among the top-selling smartphone. In the MIUI system, 17 media/apps can be monetized, and it has received ad requests from 224 countries and regions around the world.
Instanza
Instanza was founded in 2011 at Harvard University.  Its product SOMA Messenger & COCO is known as the 'Middle East version WeChat'. It has a large user base in Saudi Arabia, the United Arab Emirates, and India, with 300 million global users. Daily social interactive conducted by its users including texts, pictures, voice message, and videos are more than 5 billion, making it the most popular social app in the Middle East.
Inveno
Inveno, the world's leading provider of social media technology and solutions has extensive cooperation with most mainstream Chinese mobile phone brands,  global indigenous manufacturers, third-party apps, smart TV, and other smart terminals manufactures. Currently, Inveno has 300 million global users, with 20 million DAU. Its app, Noticias Aguila, is the most popular news app in Mexico.
In addition to the above, AdTiming mediation and monetization platform also collaborates with LBE security master, Yiugame, and other partners.