Apple released the latest version of its mobile operating system, named iOS 9, on September 16. Announced earlier in the year, the new version comes with a variety of changes to the OS, including a new search system, a set of quick access app buttons, transit directions inside Apple Maps, and improvements to Siri.
Analytics company Fiksu has added iOS 9 to its iOS tracker, which gives us a glimpse of the software's adoption rate, in comparison to previous versions. At the time of writing, the OS has been available for nearly two days. Early installation problems soon cleared, and 15.3% of iOS owners have downloaded the software, slightly less than the 15.8% recorded for iOS 8 after the same amount of time.
Fiksu's data shows a similar adoption rate to iOS 8 for the newly released iOS 9 software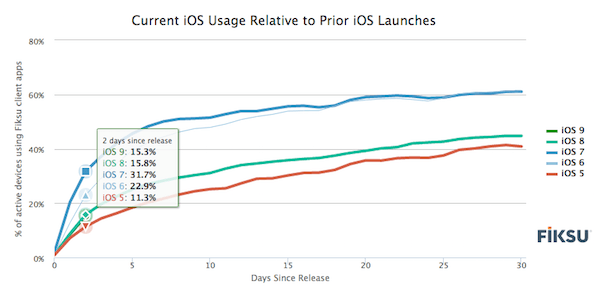 Both iOS 8 and iOS 9 trail far behind iOS 7, which saw a huge 31-7% adoption rate after just two days. Mixpanel agrees with the speed of adoption, and in a statement provided to Macrumors, says it took Google five months to achieve a similar figure with Android 5.0 Lollipop. It also blames server issues for the difference in adoption compared to iOS 7.
Apple was also expected to release WatchOS 2 for the Apple Watch, but this was withdrawn at the last moment, due to a problematic bug being discovered. It has yet to confirm a new release date for the software.