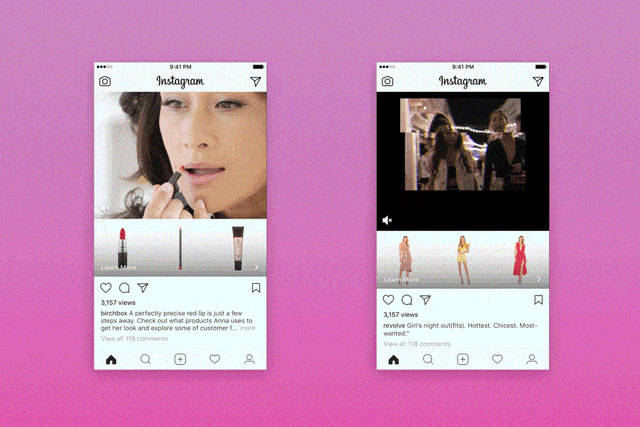 Instagram's Collection ad units are now available for all advertisers as the Facebook-owned imaging app seeks to bolster its ad products.
The move means that eCommerce retailers and brands are able to insert shopping bag icons as part of their Stories.
The Collection ad unit itself is consists of images around in a carousel display. User simply swipe the ad to view multiple products from a brand.
The incorporated images can link back to a web or product page.
The ad format was originally launched earlier this year and initially tested with a select group of advertisers. The latest announcement makes them available to all marketers worldwide.
According to initial tests with Netshoes, Collection ads resulted in a 6.3% lift in conversions and 42% reduced conversion costs compared to other formats.
Additionally, brands are now able to add the Shopping Bag icon to Stories just in time for the holiday season.
Once a user clicks on a shopping bag icon, they are able to view further product information such as descriptions and prices.
"Shopping on Instagram has enabled us to marry rich creative with commerce and tell a deeper brand story that's linked to a product," said Liat Weingarten, VP of marketing at Old Navy. "We're able to provide our customers with visual inspiration and helpful tips on how to wear, where to wear and what to pair, with a simple one-touch purchase payoff."
With a reported 25 million businesses now using Instagram, the additions appear to be part of a wider commitment to make it easier for retailers and brands to connect with audiences and ensure a smoother path to purchasing.