Mobile ad network InMobi has launched two guarantee programs for India to help mobile advertisers and publishers monetise their traffic in this market. This follows a similar guarantee where InMobi offered game developers a $20 eCPM guarantee for their ad inventory in the US earlier this month.
The first program from InMobi provides publishers with an $8 eCPM guarantee for their interstitial traffic. Below is a summary of the key guidelines: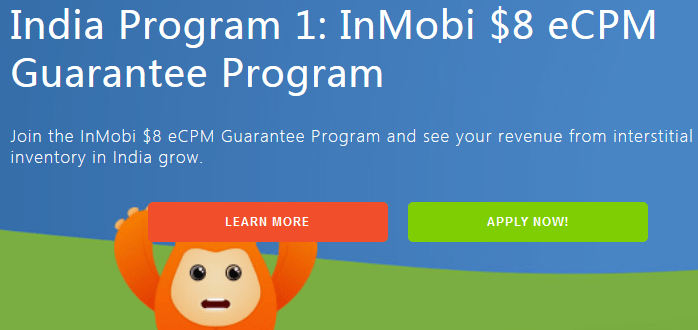 Apps must go live with the InMobi SDK before 31st October 2014
The program is only valid for apps on the iOS and Android platforms and for 3 calendar months from the date advertisers go live
The $8 eCPM guarantee is applicable for up to 2 million impressions in India during the 1st calendar month of the program
Interstitial traffic only
The second program from InMobi offers publishers a 3₵ CPC guarantee for their mobile web traffic. Here's a summary of the key guidelines for the second program:


Publishers must go live with the InMobi network before 31st October 2014
Mobile web inventory only
The program is valid for 3 calendar months from the date publishers go live
3₵ CPC guarantee applies to all valid clicks
So there you have it, two interesting mobile ad revenue guarantees from InMobi. The two programs certainly offer a competitive rate for Indian mobile traffic which generally monetizes at a much lower rate than higher value inventory. With India's mobile data traffic growing at such a rapid pace too, the programs serve as an opportunity to capitalize on the increased demand for mobile data services in this market.
For more information on InMobi visit their website here or check out the InMobi profile on our directory.