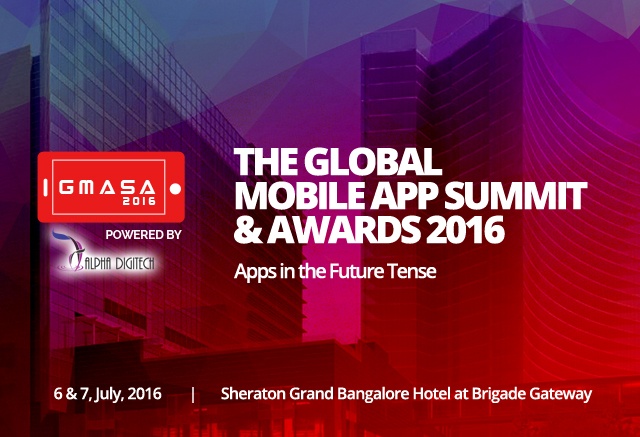 App Developers have something really big to look forward to this July. With the Global Mobile App Summit and Awards scheduled for 6th of July at Sheraton Grand in Bengaluru, the budding app developers and entrepreneurs will get the unique opportunity to come on the same platform as the seasoned veterans of the mobile app industry.
This high profile event has been receiving huge coverage by leading magazines in the industry. At a recent press meet in Bengaluru, Mr. C.R. Venkatesh pointed out that: "Bengaluru is now a global hot spot for mobile application market and we expect to see the most innovative app developers, industry experts, investors & strategists as well as the brightest stars of mobile app community at GMASA 16."
After the huge success of the Chennai and Bangkok editions, GMASA Bengaluru is expected to have even larger reach and participation than the previous two events.
Book your calendars now, App Developers @ http://bangalore2016.gmasa.org/registration/.
Here's a little sneak-peak into the line-up for this hot event.
Submit your App
Submit your App under any of the 19 categories listed on the website (education, entertainment, lifestyle, media & Video, news, music, medical, games, social media apps to name a few) and get a chance to have your app featured at GMASA 16.
Take leverage of this great platform to turn your idea into a success.
Sponsorship Opportunities
Several sponsorship opportunities are available to give your company a unique presence and branding at the Summit, while the event plays host to more than 1000 persons comprising of who's who of the mobile app industry, start ups, innovators and entrepreneurs.
Choose from one of the sponsor packages in line with your budget and be a part of the panel and keynote speakers at the event. Also receive coverage as part of GMASA's online, digital, print and social marketing across the world.
Startup Pitch Fest
If you have an idea, visit the GMASA website and share it. Shortlisted entries will be showcased in front of 1000s of investors and industry leaders at the summit.
That's not all. There would also be exciting discussions, lectures and workshops with experts in Mobile App Development, App Monetization, App Analytics, App Security and App Marketing at the summit.
To know more, check GMASA chairman Mr. C. R. Venkatesh's speech on the event at https://www.facebook.com/TheGMASA/videos/1723807837831348/
We have an exclusive offer for Appindex users!
Use the code <MA20> to get 20% off on the registration fee (Early Bird Conference Pass only) for GMASA'16 in Bangalore!
Register for the event here: http://bangalore2016.gmasa.org/registration/
Catch all the updates about GMASA'16 at http://appindex.com/, world's leading App Development Marketplace.