App analytics are the key to understand how well your mobile application works and what you can do to improve it and attract new users or customers and keep them loyal to the app.
From Google to Apple tracking apps and their performance is key to develop your app business. On both iOS and Android, there are thousands of data points available to examine to determine what to change, where maintenance is required and what actually works.
So which are the mobile analytics companies you should know about? Should you go for Apple or Android, and which ones are free? What's the difference between impressions and sessions? This guide will go through what exactly app analytics is and how to choose the tools to analyze the data.
 The App Analytics guide is divided into the following sections:

Types of app analytics: marketing, in-app and performance
App analytics tools can be divided into three macro categories. These are marketing analytics, in-app analytics and performance analytics. Here is a brief description of each.
App marketing analytics
This covers things like whether users find your app while browsing Apple's app store or on other websites, the comparison between downloads and in-app purchases and much more besides. This is key to understanding how to monetize the application, increasing ROI and not losing customers.
In-app analytics
These are everything a user does within the application. How do they behave within your app? Do they always go back to the homepage, or follow deep links? A key metric here is demographics: data you analyse on your users will inform the post-publishing development of your app and give useful insights; for example, the most frequent users of your apps need not coincide with the most valuable – so how do you turn one into the other?
App performance analytics
Strictly speaking these are in-app, but less concerned with the users and more so with the "machine" itself. Identifying pages that make an app crash, or devices on which the app slows to crawl, is the groundwork upon which all the analysis above rests. If your mobile application crashes whenever it's opened on an iPhone Xs Max (but on no other model), all the marketing in the world is moot.
This is the point where the guide goes more in-depth for each specific type of app analytics.
What are App Marketing Analytics?
App Marketing Analytics supply app brands and developers with analytical data on mobile app marketing performance. Such tools report on how many times a mobile app was installed, opened, specific action within an app was taken.
The most brilliant app ever made would struggle to become famous these days. Globally, app downloads are decreasing and in 2015, there were around 1000 apps uploaded to the Apple App Store every day. How do you stand out from the crowd? The answer is advertising and marketing.
According to CMOS in their February 2016 survey:
Spending on marketing analytics … is expected to leap from 4.6 percent to almost 22 percent of marketing budgets in the next three years.

Source: CMO Survey
Specifically, the proportion of total marketing budget dedicated to mobile analytics is expected to rise to 8.3% in the next three years.
Ad campaigns can include all sorts of aspects, from adverts to offers and cross-promotion, but to understand what works and what doesn't, you also need marketing analytics. There are so many ad networks out there, and so many ad formats, that tracking which ones work and understanding why they do is crucial to getting a good return on investment. There are far more data points and metrics than the ones below, but we've listed a few major ones.
Marketing Analytics KPIs
Installs – not just how many times your app is installed, but the path that leads people to installing an app is just as important.
Opens – when is your app opened? Is it following a particular deep link, or do users of another app have a high percentage of switching over to yours? At a particular time of day?
Purchases – When people purchase something within your app (or when do they purchase the app itself).
Registration – If the app requires a registration, its important to know why people decide to register and more importantly why the people that drop out do so.
Content Viewed – Self explanatory, as it tells you what you should do more of.
Shares – On which platform and for what reason is a link to your app, or its content, shared?
Invites – Not only how many invites, but also who invites and who gets invited is key to reaching those demographics.
Custom Events – These are metrics set by you, for example to find out when people have followed the "Customers who bought this also liked" button
The real difficulty here however is understanding what to do with all that data. Again according to the CMOS survey, the main reason preventing the use of more marketing analytics is a lack of process and knowledge of what to do with them.
Factors preventing use of marketing analytics according to CMOS survey.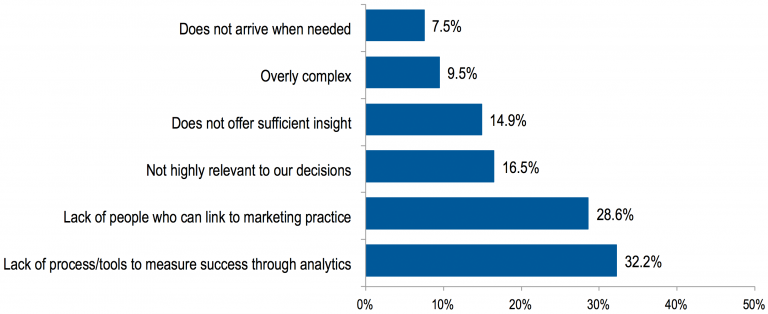 Source: CMOS.org
A lot of the platforms we recommend below, however, offer ways of making sense of the data instead of just offering it to you.
Once you have a grip on all of these, you can tailor your marketing campaign accordingly. You could find out, for example, that the majority of people who access your app do so around bedtime, and thus push for more adverts being displayed at those particular hours.
What are in-app analytics?
What users do within your app is the tip of the iceberg for in-app analytics. The category can be broadly divided into three sections: device, user demographics and user behaviour. In the first, things to look at can include what kind of device they are using and whether the model or OS version has any effect on their behaviour (for example, on a particular device the "buy" button on a page could be hidden behind another one). Within user demographics you have language, gender, location and also whether they're new users or returning.
Finally, user behaviour is the biggest one to consider – how users behave within an application and how that leads (or doesn't) to income and conversions. There are almost infinite things to track here such as where people click on an app, how long they spend on a page, which pages lead to higher conversions and why (it could be content, it could be product, it could be design).
In-App Analytics KPIs
Type of device.
In-app behaviour: clicks, levels completed, purchases made.
Location, gender, age and language of users.
Whether user is new or returning.
Operating system.
Manufacturer.
Time of use.
These all inform how you can change an app for maximum ROI. In the case of games, are there specific levels or bosses that are making people exit the app? How often are they using certain feature, or if given a choice, how often are they picking one over the other? All this information is invaluable when understanding how your users interact with your application. A subset of this is A/B Analytics.
A/B Analytics.
Presenting users one of two different options (whether they present differences in design or experience) and seeing which one works best. The issue is that while you can do this in-house, you will often need ways of doing it "live", testing it on current users, without breaking the app or turning them away. A/B testing is key, but it is one part of a wider toolset, and thus the companies that supply it often do so alongside other tools as well.
Up next, the foundation of it all: app performance analytics.
What are app performance analytics?
This is the bedrock of optimising an app – without this set of statistics, it's basically impossible to retain users because you won't be looking at the most important metric of all: whether an app works or not. From uptime (how long an app is kept open) to crashes, responsiveness and resource usage, you need to know when your app works, slows down or fails; and you need to know it for every single device and operating system your users access your app from. Does your app perform better on a particular brand on phones than in others? You'll want to know why. Further, your app may depend on third-party services in the cloud, and you'll want to know exactly how these affect your app both when they are available and unavailable. These are just some of app performance KPIs.
App Performance KPIs
Carrier latency.
API latency.
Uptime.
Crashes.
Exceptions.
Errors.
Data Transactions.
These are well and truly crucial to know if an app doesn't work, and how. You may find that opening a specific page on iOS crashes your app – if this is your sales page, you're in trouble.
So now you know about all the types of app analytics, how do you choose a platform?
How to select an app analytics platform
As you'll see in the list below, there's quite a few analytics platforms out there, so it's important to know how to choose which one is best for you. Here is a list of things to look for or ask yourself.
Pricing plan
The pricing plan is one of the key things to look at because a lot of platforms have different "tiers", offering an increasing number of metrics, data points or features as you pay more. If your app won't generate huge amounts of data or only requires a few metrics, then perhaps you don't need to go for the "full features list" tier. Some platforms are free, while others have a free bracket as long as you stick to very basic features.
Key features
Some platforms offer a specific key feature on top of the basics, such as A/B testing, push notifications or a focus on metrics for games. While some features are universally provided by most platforms, these may not be. Find out what the platform's unique selling point is and understand whether it is important to your app.
What does your app need?
Following on from the previous point – what kind of analytics do you need? If your app is going to be used within your enterprise only by a few people, performance analytics may be more important to you than user experience. If your app is highly original and standard analytics won't give you much of an insight, customisable metrics may be for you.
Level of support
How much documentation does the platform offer? Do they have a 24/7 hotline or account managers to help you when things go wrong? If everything else is equal, this may be the deciding factor in your decision making process.
Size of SDK/implementation difficulty
Most of the platforms here come with a very easy implementation process, sometimes as little as a single line of code. Other SDKs or implementations can be bigger and more complicated, potentially even slowing your app down or affecting its performance. Ensure that the platform is fully compatible with your app and easy to use.
With these points in mind, we hope we have made it easier for you to choose from one of our selected mobile app analytics platforms. If you find these are not enough, you can always take a look through the Business of Apps Marketplace.
Selected mobile app analytics platforms
These are some of the best app analytics tools you can find: they are not ranked in any particular order, but the selection was made on a number of factors including how powerful the tool is, whether it offers a new kind of metric or an insightful visualization, as well as covering the full range of data an app developer or marketer might need. If you decide you still haven't quite found what you're looking for you can always check out our directory of app analytics tools.  The one's we've selected are:
As you would expect from the Cupertino company, Apple offers a constantly-updated analytics engine with slick design and easy implementation. Predictably it only works for iOS, but on that platform it is one of the most complete and powerful tools to track all of your in-app data.
Type: In-app analytics.
Pricing: Included in Developer membership fee (either $99 or $299 per year).
Platforms: iOS, TvOS.
A mobile app tracking and attribution analytics platform for app developers and marketers, Appsflyer is trusted by, among others, the Wall Street Journal, L'Oreal and Trivago. It's a one-stop-shop for marketing analytics with an active fraud solution and has partnered with Twitter and Google too.
Type: Marketing Analytics
Pricing: 30-day trip period with Basic plan, the Custom plan price is available upon request
Platforms: iOS, Android, Windows & Xbox, Amazon, tvOS, Unity, Cordova, Marmalade, Cocos2ds, Adobe Air, React Native
App analytics and market data platform to help developers build a better app business, App Annie is also one of the most famous repositories of news and statistics on the mobile world, is the one that Apple Inc. itself frequently quotes during its WWDC annual events. It basically sets the standard for datasets and analytics. This comes at a price however, and the unpublished pricing tiers are rumored to be expensive.
Type: Marketing Analytics.
Pricing: Free or custom
Platforms supported: iOS, Android, TvOS, macOS, Windows, Amazon
Marketing-focused analytics platform, also includes app-store analytics in its "console" and has a free trial period available. Tune also offers supply-side tools for ad networks, real-time tracking and 3rd party ad management, but it does not collect data from Facebook.
Type: Marketing analytics.
Pricing: 30-day free trial period, custom thereafter.
Platforms Supported: iOS, Android, Windows, Web
Priori data is an app analytics company that provides app developers with a suite of tools for the app stores analytics and intelligence. Among benchmarks the platform allows to measure are DAU, MAU, ARPDAU, retention rates, downloads, store revenue, tool chart ranks and keyword ranks.
Type: Marketing analytics, In-app analytics.
Pricing: Basic plan ($250 / month), Pro ($750 / month), Enterprise (quote is available upon request) plans
Platforms Supported: iOS, Android
Smartlook is a qualitative analytics solution for iOS, Android, and React Native apps that answers the "whys" behind your users' actions. Using this solution, you'll be able to watch recordings of every user, and you'll see exactly what they see, down to the same resolution. As well as to track any events within your app, from tapping a button to starting a new level. Build conversion funnels and find out where most of your users are leaving your app (and see exactly what they did before they left).
Type: In-app analytics.
Pricing: 30-day free trial, pricing for a package with premium features is available upon request.
Platforms Supported: iOS, Android, Mobile Web
Appsee provides developers with visual, qualitative insights on their app by using touch heatmaps to allow developers to see true in-app user behavior, as well as videoing user behavior during sessions.
Type: In-app analytics.
Pricing: a 14-day free trial, regular plans pricing isn't disclosed
Platforms supported: iOS, Android
Kumulos is a mobile app performance management company. Its services portfolio features Push Notifications, Reporting & Analytics, Crash Reporting & Diagnostics, MBaas. With Kumulos app developers and brands can choose from three solutions – Unified Mobile App Performance Management, Mobile Marketing Automation Platform, Mobile App Business Grow tool.
Type: In-app analytics
Pricing: Startup, Enterprise, Agency plans, the actual prices are available upon request.
Platforms supported: iOS, Android, Windows
Apptica is a mobile advertising analytics tool that provides a comprehensive data for in-app advertising campaigns. Apptica collects data from advertisers in 35 countries and 25 major Ad Networks to keep its advertisers up-to-date with latest and greatest on the in-app advertising market, drive better results and always stay ahead of your rivals.
Type: Marketing analytics
Pricing: n/a
Platforms supported: iOS, Android
No list could really be complete without Google Analytics for Mobile. The Internet giant offers in-app analytics not just for its own Android platform but for iOS too, as well as a solution for other platforms.
Type: In-app analytics.
Pricing: As with most of Google's products there is a very strong free version plus custom tiers for enterprises.
Platforms: iOS, Android.
Aiden.ai is app analytics company that distinguish itself from the rest by focusing on improving app developers ROI via proactive handling of collected app data and making suggestions to improve an app's performance. With its Actionable insights it points out to specific ad campaigns performance that need developers attention and with One-click optimization empowers them to react quickly and efficiently.
Type: In-app analytics.
Pricing: Individual plan ($500 / month), Enterprise plan (pricing is available upon request)
Platforms supported: iOS, Android
AppOnboard is an app analytics company that provides Android app developers with a platform to run an app demo prior its release on the Google Play Store. It also allows developers to take advantage of the Google Play Instant experience via its Try Now feature.
Type: In-app analytics.
Pricing: n/a
Platforms supported: Android
Appsumer  is a reporting and analytics platform for user acquisition teams at scaling apps. It  transforms fragmented media cost and attribution data into granular, perfectly unified ROI insights aiding faster, better-informed and more confident UA decision-making.
Type: Marketing Analytics
Pricing: n/a
Platforms supported: Android
Localytics – is an application analytics software that allows app marketer to discover app users behavior, engage with them and optimize the app's performance. With Localytics users can scale to track up to 100 thousand monthly active users and 12 million datapoints, Localytics keeps track of granular analytics, user flows and funnels. Localytics also offers A/B testing and your own dedicated account manager as well as marketing automation.
Type: In-app analytics.
Pricing: Not available online.
Platforms supported: iOS, Android, Windows Mobile, HTML 5
An enterprise mobile app analytics company, Apsalar provides an analytics platform with Marketing Attribution, Remarketing Audience and CRM & Prospecting Audiences tools. While it only works for iOS and Android, it has plenty of features to make up for it, from LTV measuring to marketing automation and cross-app funnel analysis.
Type: Marketing analytics, In-App Analytics
Pricing: Not published online.
Platforms supported: iOS, Android
Countly covers everything from push notifications to user profiles, attribution to segmentation with real-time analytics of up to 10 million unique identities. It has a particularly responsive UI, real time analytics and best of all, it's open source.
Type: In-app analytics, Marketing Analytics
Pricing: Enterprise edition, Free Community Edition plans
Platforms supported: iOS, Android, BlackBerry, Windows Phone, Apple Watch, Mac OS X, Unity3D and Flash
Mixpanel is an advanced analytics platform with nearly 3000 clients including miniclip, AirBnB, WordPress and Match.com, and installed in under 10 minutes. Has loads of analytical tools (funnel analysis, cohort analysis, marketing automation to name a few) but unfortunately does not have a live demo.
Type: In-app analytics, Marketing analytics,
Pricing: Free (5 million data points), Basic (10 million + data points), Enterprise (Basic plan features & 5+ years dat history, premium support and more)
Platforms supported: iOS, Android
As the name implies, GameAnalytics is a game-focused and free analytics tool tracking stats like game progression and level advancement, and also a customizable GUI. Supports Unity legacy as well as Corona, Xamarin, Python and Flash.
Type: In-app analytics.
Pricing: free
Platforms supported: Unity for iOS, Android, Flash, Windows, Web GL
Analytics platform with customizable metrics and events to track, UpSight also offers consultation and ad optimization services. The dashboards are similarly customizable, as are KPIs, and while pricing is not published it does offer a free trial. Includes A/B testing and marketing automation capabilities.
Type: Marketing analytics, In-app analytics.
Pricing: custom pricing, no plans
Platforms supported: iOS, Android
Swrve is designed to track user behavior and purchases, conduct A/B testing, deliver Push Notifications and in-app marketing campaigns.
Type: Marketing analytics.
Pricing: free trial, monthly plans pricing is undisclosed
Platforms supported: iOS, Android
Guarantees 99.98% uptime to its platform and doesn't even need an SDK to implement. Kochava has a strong focus on privacy of user data. It provides users with a combination of both analytics and attribution features as well as iBeacons support, a server-to-server API and IdentyLink technology (cross-device app user identification). In 2018 the company ad fraud prevention team managed to uncover a global ad fraud scam.
Type: Marketing analytics.
Pricing: Free plan, 15-day trial period, the Enterprise plan pricing isn't available online.
Platforms supported: iOS, Apple Watch OS, Android
Specifically focused on enterprise growth and app stats analysis, AppDynamics' USP are its six "intelligent engines" for tracking metrics beyond the ordinary. It tends to focus on larger apps and companies, but nonetheless it is fairly easy to deploy and is a self-configuring platform with app behavioral learning.
Type: In-app analytics.
Pricing: free trial, free Lite plan, custom quote for Pro plans
Platforms supported: iOS, Android
Code-free app analytics platform with both real-time and historical data. Heap also has strong automation features to track and chart metrics. The non-native Android support is a bit of a drag, but the Enterprise plan does include direct data export if you want to pair the stats up with another tool.
Type: In-app analytics.
Pricing: Free or custom pricing
Platforms supported: iOS, web, Android
User analytics and engagement platform for mobile apps, MoEngage is heavily focused on geo-targeted app push notifications and in-app messages. Tracks uninstalls (for iOS), integrates with MobileAppTracking, Appsflyer, Apsalar and is the largest marketing platform in India.
Type: In-app analytics.
Pricing: free plan, regular plans pricing is undisclosed
Platforms supported: iOS, Android, Windows Mobile
Taplytics is a mobile A/B testing, Push Notification and app analytics platform which also includes a free demo period. Its BigQuery gives access to raw data (experiments, events, or push notifications) to setup custom metrics and it offers Mixpanel and Google Analytics integration. Taplytics capacity to provide analytics for apps, written for TV based operating systems, sets it apart from other analytics platforms.
Type: In-app analytics.
Pricing: a free plan (to track up to 25k MAU), the Enterprise plan pricing is upon request
Platforms supported: iOS, Android, tvOS, Android TV, Amazon TV, Roku TV

Leanplum is a mobile engagement platform that includes app analytics, mobile marketing automation tools, solutions for mobile user retention, personalization and more. Leanplum uses multiple channels to help marketers to reach their customers – Push Notifications, Email, In-app messaging and Web Push Notifications.
Type: In-app analytics
Pricing: Customized Enterprise Plan pricing is available upon request
Platforms supported:  Android, iOS
Singular is an end-to-end marketing platform analytics platform designed to maximize ROI with what it calls "1600+ preconfigured marketing solutions", which is to say combinations and algorithms using different data silos in order to gain valuable insights. Since 2014 it tracked $10 billion in mobile app ad spend and has 2,000+ integration partners.
Type: Marketing analytics
Pricing: N/A
Platforms supported: Android, iOS, Web

Adjust is an attribution and analytics software package for mobile applications, enabling mobile app marketers to examine store statistics, advertising sources and advanced analytics to fully monetize their application. Adjust is the choice of such established brands as Yelp, Zynga, Spotify, Soundcloud, Runtastic, Hotel Tonight.
Type: Business intelligence, Marketing analytics, In-app analytics
Pricing: Free demo
Platforms supported: Android, BlackBerry, HTML5, iOS, Windows Phone
Apptentive is as much about data as it is about building a brand and a solid user experience. The app analytics side tracks user behavior and interactions, but Apptentive is also a platform to deliver surveys, gauge sentiment and listen to feedback from your users.
Type: In-app analytics
Pricing: Free trial, then custom
Platforms supported: iOS, Android, Cordova
Braze is a mobile app marketing automation and analytics software package with a focus on managing your campaign and promoting your business and use of your application.
Type: Marketing analytics
Pricing: Demo, then custom
Platforms supported: Cordova Android, Cordova iOS, Fire OS, ReactiveNative Android an FireOS, ReactNative iOS, tvOS, Unity Android, Unity iOS, Windows Universal, WordPress, Xamarin Android and Fire Os, Xamarin iOS
Final Thoughts
Knowledge is power, and in the field of mobile apps that is extremely true. The more useful statistics you track, the more metrics you know, the more ways you have of improving your mobile app and reaching the right users and customers. We hope the guide has given you an idea of the importance of app analytics, what they are, and who you can trust to obtain some great insights.