Back-end-as-a-service platform Firebase has been transformed into a unified app platform for developers working on Android, iOS, and mobile web apps, it has been announced. The Google-owned platform has seen a range of new tools added, along with an analytics solution.
Firebase has become a unified app platform, with new features including app analytics
Announced during the keynote speech at Google I/O 2016, Firebase Analytics provides data on how ad campaigns are performing, information on user base and location, and more, all through its dashboard. A new feature called Audiences lets developers create groups of users for integration with other Firebase features.
Other new Firebase features include:
Firebase Crash Reporting: Actionable reports showing problems inside iOS and Android apps, that connects with Audiences for greater detail.
Firebase Test Lab: Discover potential problems in apps before release using automatic and custom testing on real devices in Google centers.
Firebase Cloud Messaging: Both Android and iOS are supported by this free message solution with no restrictions.
Firebase Storage: Powered by Google's own Cloud Storage system, developers can upload, store, and download files.
Firebase Notifications: Codeless notifications are part of the new UI for the Cloud Messaging platform.
Firebase has a new look dashboard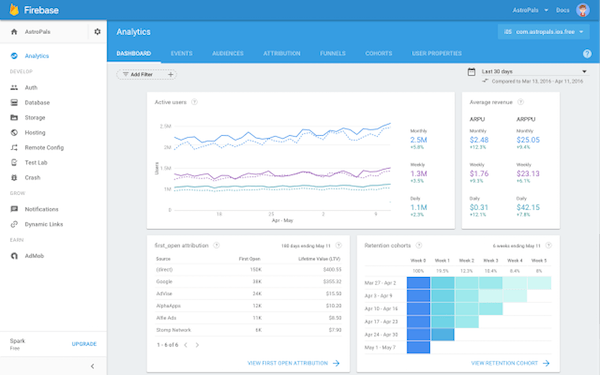 These features are joined by ways to let users invite other users to apps by sharing a code, plus both AdMob, and Adwords integration.
Firebase is now offered through four different payment plans, starting with a basic free option, and including a pay-as-you-go plan. Learn more about the all new Firebase platform by visiting the newly revamped website here.