Google has updated the API for Google Maps on Android Wear, and pushed through a revised version of the app to enable several new features for wearers. Announced on the official Android blog, the API is designed to help Android Wear users get more value from Maps on their wrist.
Maps now responds to a specific voice command, and telling Android Wear, "OK Google, navigate to…" will automatically open Maps, and display a full-screen navigation view. Additionally, Maps now supports the always-on mode for Android Wear, and displays a monochrome image when it enters power-saving mode.
New Google Maps API adds new features to Android Wear app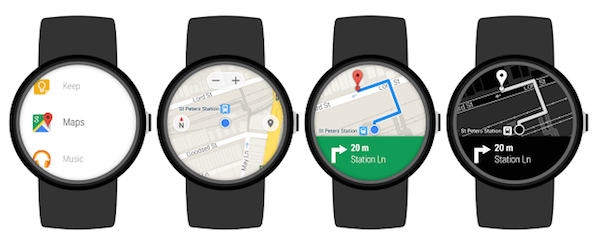 Google's also pushing how Google Maps can be integrated into third-party apps. It provides various examples, including how Priceline can find local stores, and HotelTonight will examine local rates then deliver a notification when prices are at their best.
The Google Maps update for Android Wear comes several months after the wearable OS was updated to version 5.1.1, which added new functionality to the growing collection of Android-based smartwatches.