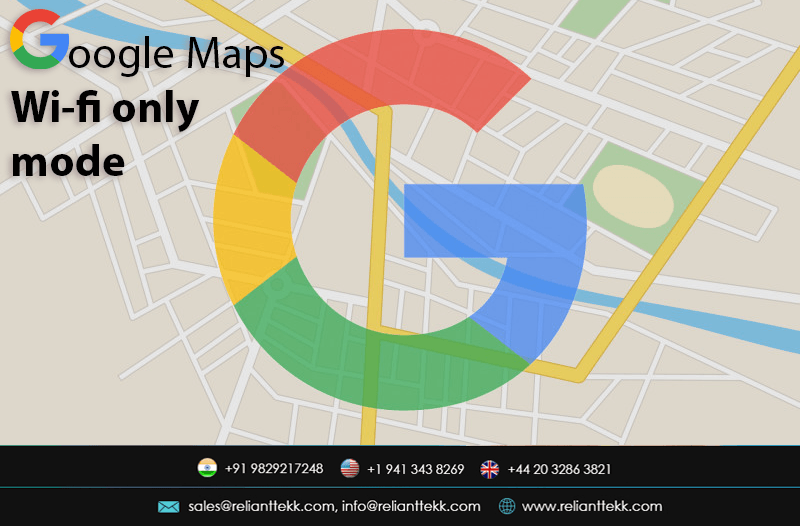 Few features have started rolling out to some lucky Android users lately. One of them is the "Wi-Fi-Only" mode. The Android Police has pointed out that this roll out might take some time before it is made available to everyone. But before this feature is made available to the public, it is necessary to know what is "Wi-Fi-only" and how does it function?
What is "Wi-Fi-only" mode?
This is a mode that lets users save a significant amount of mobile data by switching to only Wi-Fi mode. You will then be connected to the nearest Wi-Fi network available automatically and mobile data will not be used. So if you've accidentally turned on mobile data and have chosen the Wi-Fi-only mode, you will be saving a considerable amount of data. So while using the Google Maps app, you can switch to this mode. This option is available in the Settings menu of the app. So in the upcoming updates, you can soon see this major change. And this feature can be well integrated into Android development as well, for any apps developed.
Wi-Fi Only Mode Enabled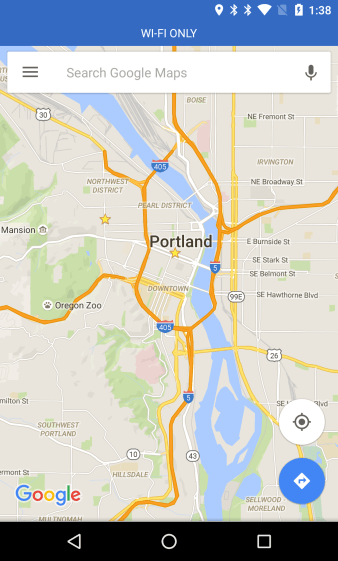 How does "Wi-Fi only" work?
Once you switch on the "Wi-Fi only" mode, Google Maps app stops using the mobile data and switches to an available Wi-Fi network. The app relies on Wi-Fi connected but it might still use a small amount of cellular data.
On turning on the Wi-Fi mode, users reportedly got a notification saying "You should know… A small amount of data might still be used, but it will be significantly less while on Wi-Fi only." However, majority of data will be loaded through Wi-Fi signals so that mobile data is highly optimized.
Google is also working on another new feature for Google Maps app that will notify users in cases of transit delays. And you can also customize notifications for the transport mode you use. Smart enough, Google. But according to sources, it is still not clear whether Google will roll out this update anytime soon. But yes, this feature is scheduled to be available and developers are working on it. And if you have Wi-Fi everywhere around you in your city, you will love this update. This will be more convenient for tourists and local citizens both.
A very prominent example of "Wi-Fi-only" mode is the "Use mobile data for <apps>…" in the mobile data settings of iPhone. Yes this feature has almost copied the basic OS feature of the iOS. But yes it is worth it. Users have been waiting for this feature since a long time.
Not to forget, Google's Android developers recently updated the Google Maps app with multi-stop support, that is, users can input multiple stops while they're on a trip. Users can input a destination and add stops in between. This has surely taken user's travel experience to a new level. Tourists are loving this update.
If you are an Android user based in India, there's good news for you. India is becoming a potential market for Google's Maps. It has made some changes in the app to make it India centric. How? Hindi has been added to its multi-lingual support. The app can understand the local language of India, Hindi and directs users in that language. Isn't that amazing? What's more, you can get traffic alerts in offline mode! Mobile data saving gets much more enhanced this way.
For maximum Indians, this feature of offline maps direction is much more useful with patch data connectivity, especially in the metros.
The Wi-Fi only feature can be expected in India anytime soon. Stay tuned if you're an Android user based in India. Why Google came up with this feature was because cellular data, when always connected, is very expensive since most of the apps hog mobile data in the background. Plus telecom operators provide such plans to users that come with unlimited data but the speed is limited and very slow. Hopefully Google Maps will help in minimizing data usage and prevent these prevailing problems users face in their everyday life.
Wi-Fi is often free or relatively cheap as compared to mobile data. And nowadays a lot of free Wi-Fi spots are available in different areas. Thankfully, Google will now work on just Wi-Fi.
When you're constantly connected to Google Maps with mobile data, Google Maps works superb. But in its absence, the app fails to work as desired. Rather Google hasn't managed and handled it well as compared to the other competitive apps.
Talking of Google Maps & its early updates, it has already allowed users to download certain map segments for offline use. This feature initially was intended to cater travelers with optimized usage of maps where they can avoid extra data charges. And this has already worked wonders. Google has apparently taken this feature to the next level and introduced the "Wi-Fi only" mode.
A very prominent example would be: Before boarding the aircraft for a vacation or business meeting in New York, you can easily download the entire map of New York to your phone using the airport Wi-Fi or your own mobile data. Then when you reach New York, no matter if you don't have a working number with an active internet connection, you can still roam around New York without getting lost since you already have the entire city map. You need not worry about the mobile data cost too. Maps will be accessible for free, at no cost. Yes, and not even any roaming charges.
The Wi-Fi only mode would be helpful when you take an unplanned trip to another city. In this case you may stop by at a café that has an active Wi-Fi connection so that you can download the map of that city you are traveling to. This helps you prevent extra data usage. However, your data will still be used but to the minimum limit, giving you an optimized data usage experience.
All we have to see is how this Wi-Fi only feature is going to fair out for users and even Android developers if they plan to integrate it in their projects.
You can visit the Shubhashish Reliantekk site here for more.