Android for Work, Google's project to encourage businesses to adopt its mobile operating system for use in the workplace, continues to grow. Google has announced another 40 new companies have joined the project, and that for the first time, several networks are among them.
Verizon, AT&T, T-Mobile, Sprint, Telus, Bell, KT, and Rogers are all now listed as Android for Work partners, which enables business users to work closely with operators to integrate the security and management tools that the initiative brings.
Google has added 40 new companies to its Android for Work program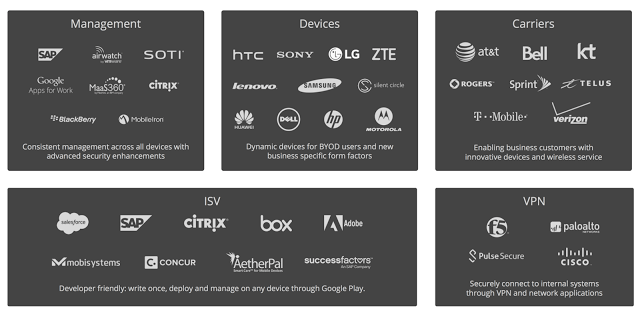 There are also a string of device manufacturers onboard, including Samsung, HTC, Sony, ZTE, Huawei, and Motorola. On the computing side, Dell, HP, and Lenovo are all signed on with Android for Work, along with mobile security experts Silent Circle. Other notable additions include Citrix, SAP, Box, Adobe, and Cisco.
Google says Android for Work is currently in use or being tested by more than 10,000 businesses around the world. You can learn more about the program here.