Mobile marketing company Fiksu says the 'app frenzy' is slowing down, after noting a reduction in the costs to acquire a loyal user, and a fall in the amount of apps downloaded during March this year.
In February, Fiksu put the cost of acquiring a loyal app user at $3.50. In March, this number fell 8% to $3.21. The company says that 88% of app users only spend time with five apps, and that, "most people don't download any apps on a monthly basis because they aren't looking for new ones."
Fiksu's data shows the cost to acquire loyal users has fallen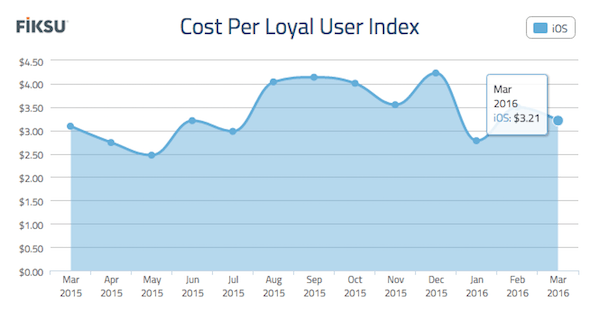 To illustrate this, Fiksu examined the top 200 free iOS app charts and found the since February, the number of downloads had fallen 7% to 7.6 million each day. This was an 11% fall over the same period in 2015.
Moving forward, Fiksu has decided it will no longer track Cost Per Install separately, although it will remain part of its ROI indexing. The company explained:
"When app marketing was in its infancy, the CPI Index was a good bellwether, allowing marketers to compare their cost per download with the larger industry. With today's mature app market, CPI is no longer a good gauge of an apps' success: targeting, tactics, and competition in specific categories can dramatically shift CPI for any one app campaign."
To see Fiksu's complete indexes for March, visit the company's website here.