The Internet of Things (IoT) is predicted to become a big player with an estimated economic impact of $3.9tr to $11.1tr a year by 2025. IoT devices are to almost triple from 10.3bn in 2014 to 29.5bn in 2020. But how aware are consumers of this growing trend?
According to research by Deutsche Telekom in June 2015, only 12% of Germans were aware of IoT. With 88% of the country's population unaware of the trend, it comes as a surprise that 41% of German marketers believe it will have a big impact in the future.
IoT awareness in Germany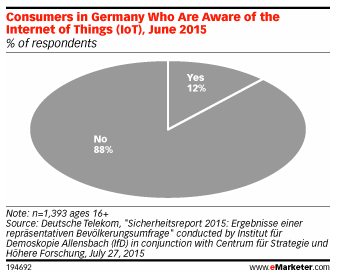 Source: emarketer.com
However, despite the lack of awareness, the study also found that Germans are generally interested in connecting their devices and creating smart homes. Whilst technical knowledge and education are still lacking, there's significant intrigue.
In contrast, customers in the UK and US may be more aware of the trend, but are deeming it unnecessary. 47% of UK customers stated that they didn't need any more technology in their lives, according to a survey by Toluna among 1,000 UK customers in March 2015. A similar percentage (50%) of US respondents agree that IoT won't be as prominent in their lives as previously predicted.
Security was among the top reasons for rejection of IoT with 67% of respondents concerned. When asked specifically about their reliability concerns, most consumers stated being stranded by devices such as automated cars to be their biggest worry, followed by poor reception and lost or broken devices.
IoT reliability concerns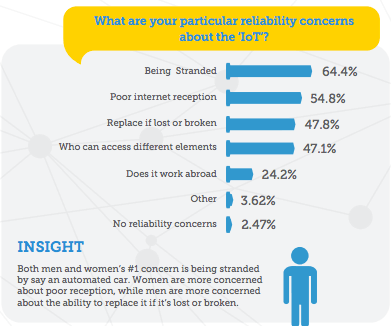 Source: toluna-group.com
However, it's not all bad news. General unawareness of IoT dropped to just 15% in the UK. The under-35s, earning £50,000+ are the most aware. Frédéric-Charles Petit, CEO, Toluna, said: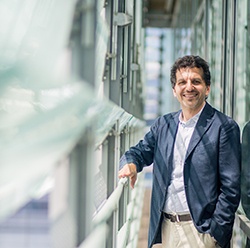 "While our research reveals that consumers are somewhat sceptical about this new evolutionary era of technology, this uncertainty will likely wane once we see how connected devices ­ such as smart medicine bottles and wearable activity trackers ­ revolutionise our lives for the better."
Among the areas where IoT would be considered to be the most useful are security, home appliances, healthcare and social life.
Areas of interest for IoT usage
Source: toluna-group.com
Whilst IoT will be of importance to consumers, it still remains an enterprise-centric business with 70% of installed bases predicted to be within enterprise, compared to only 30% in the consumer market. In 2015, 36% of North American companies have rolled out IoT initiatives and 79% of companies globally use the technologies.