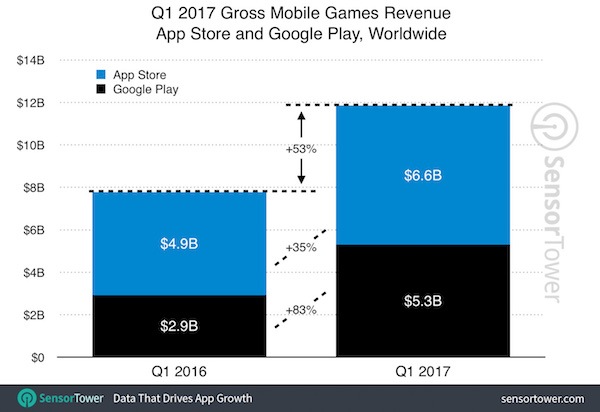 Mobile games are ruling the app stores, and are responsible for 80% of the revenue from the Apple App Store, and 91% from Google Play. Data company Sensor Tower has revealed an astonishing rise in mobile game revenue in 2017 alone, showing a 53% jump in year-on-year performance.
This time last year, mobile generated $7.8b for app stores, but during the first quarter of 2017, Sensor Tower has recorded $11.9b in revenue. While the Apple App Store grew its revenue by 35%, it was outperformed by Google Play, which leapt from $2.9b in revenue during Q1 2016, to $5.3b in Q1 2017. This is an 83% rise.
App installations weren't left behind either. A 15% increase saw the 7.6 billion installs at the beginning of 2016, turn into 8.8 billion during the first three months of 2017. Kiloo's Subway Surfers was the top downloaded game, with 8 Ball Pool, and Super Mario Run behind it in second and third place respectively. Monster Strike topped the worldwide gaming revenue chart, followed by Fate/Grand Order, Game of War, and Clash Royale.
Nintendo and Niantic's Pokémon Go came in eighth overall, and Sensor Tower had this to say regarding the game's performance:
"Although it still ranked within the top 10 overall, Pokémon Go dropped from No. 4 in Q4 2016 to No. 8 last quarter. Its in-game events during Q1 (Valentine's event and Gen 2 update) simply couldn't manage to sustain the game's popularity last year. Specifically on the App Store, Pokémon Go dropped out of the top 10 altogether in Q1 even though it was there in the preceding two quarters."