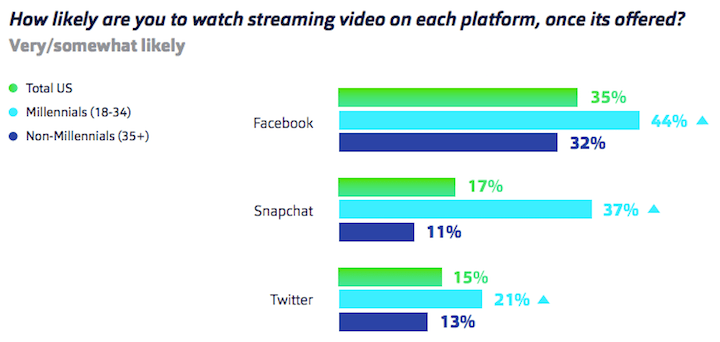 Out of the top three social networks looking at providing streaming video content in the future, Facebook has emerged as the top platform for those aged between 18 and 34 to watch it. In a study conducted by Fluent, 44% of those in that age group said they were very, or somewhat likely to watch streaming video once it's offered.
Facebook also took the top spot for those aged over 35. In total 35% of those surveyed said Facebook would be their preferred social network of choice for streaming video online, beating out Snapchat and Twitter.
Millennials voted hard for Snapchat, but at 17% overall it's far behind Facebook. Thirty seven percent of users aged between 18 and 34 said they'd watch streaming video through the platform, but only 11% of those over 35 chose it. Twitter came in third with 15% overall, but did manage to beat Snapchat in the over 35 category with 13% choosing it for streaming video services.
Fluent says streaming services in the U.S., where the survey was conducted, have surpassed cable subscriptions, with three out of four Millennials having access to an online streaming video service.