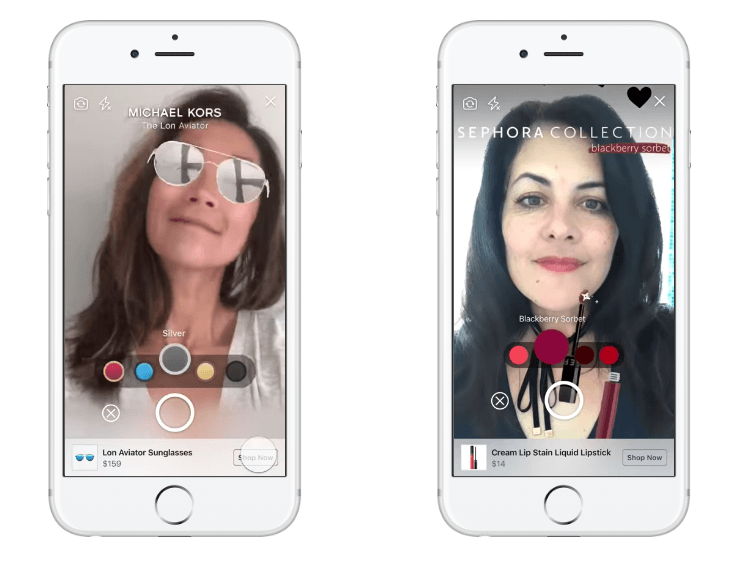 Facebook has launched augmented reality (AR) ads for its News Feed, which allow brands to create mobile video ads combining their existing images and videos.
According to estimates by The Boston Consulting Group (BCG) over 80 million people in the US now engage with AR content each month. The rate is likely to grow to 120 million by 2021.
The AR ads have already been tested in a campaign by Michael Kors which enabled users to virtually try on a pair of sunglasses before purchasing them. By using different camera effects, the AR ads allow Facebook users to test and engage with various features of a product.
Meanwhile, advertisers can add calls-to-action to allow shoppers to go from engaging with a product to purchasing it.
Facebook plans to test AR ads this summer with various brands including those in fashion and accessories, cosmetics, furniture, gaming and entertainment.
The introduction of AR ads comes just in time for the holidays and when 79% of consumers prefer to view videos to learn about products than read about them.
That's why the social media giant also announced a Video Creation Kit that simplifies the mobile-first video ad creation process for advertisers. Brands and marketers can create video ads by using existing images, adding overlays and logos.
"Using the Video Creation Kit we were able to upload existing static assets and turn them into mobile-optimized videos through the use of Facebook's ready-to-use templates," explains Sam Wheatley, Director of Growth Marketing at Noom. "Using the videos created from this toolkit has resulted in a 77% increase in performance compared to the original static assets that ran on Facebook."
Facebook has been busy ramping up its video offering and options for users, creators and businesses. In June, the company added auto-play video ads for its Messenger, and earlier this year it stepped up its efforts to support creators of video game livestreams by adding tipping functionalities.