Today, a smartphone is the primary device for millennials.
True that! Businesses have started realizing the power of mobile commerce. Mobile is the source of largest, global audience, and more importantly – an active audience that can help small, medium and big businesses generate maximum revenue.
There has been a radical shift from desktop/laptop to mobile phone because – its anytime, anywhere. People find it overly convenient to explore, search, compare and buy from the comfort of their chair. This brings an intense competition among retailers struggling to become a favorite of users.
But still, we find that web conversion rates are higher than mobile. Why? Are small screens not that effective to display products? Then why businesses are incorporating mobile payments like Apple Pay, Android Pay, Samsung Pay and various others on their offline and online stores? Why are major retailers entering into mobile market through mobile apps?
Related Post: Why Small Businesses Must Have Mobile Apps?
Let's find out why people choose to shop from mobile phones and why from web stores.
Mobile shopping vs. Web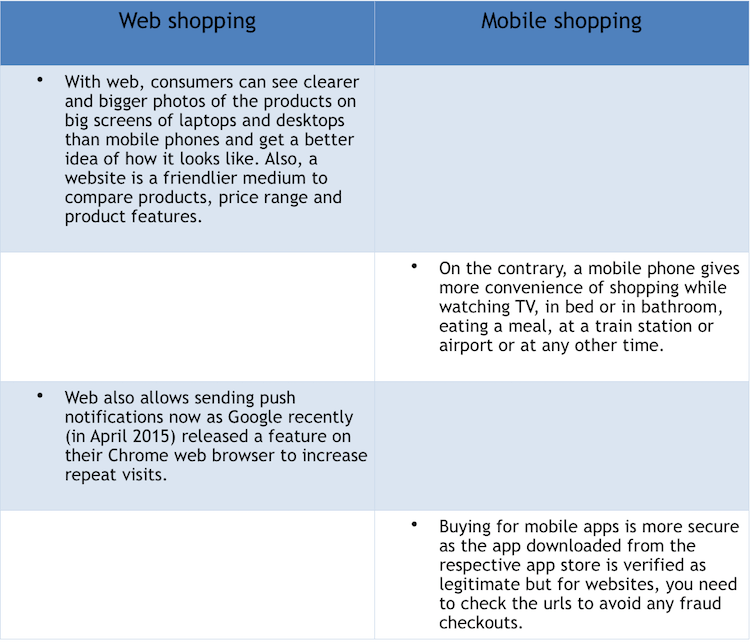 Drawbacks of going app-only
One of the biggest examples here is Asia's leading online fashionstore – Myntra.com (now owned by Asia's eCommerce leader Flipkart). Lately, the company's business experts thought of developing an app, erasing themselves completely from the web. Customers and users will have to download the app to use services. It was a ruler on browser, but there was a drop in traffic and conversion as it went app-only. The strategy backlashed completely, which forced Flipkart to abandon its app-only plan.
While Flipkart took a plunge with its mobile app, Amazon stole the show last year with its mixed sales through website and mobile app. However, the actual figures were never revealed, there was a 15-20% turmoil.
By the end of the year, Flipkart will reopen Mantra.
The line between web-commerce and m-commerce is eliminating 
With latest technology developments in online shopping, the difference between merits and demerits of having an eCommerce website or a mobile app are disappearing. Businesses need not focus on what's more important because you can show it all on both.
Presently, the best course of action for a retailer is to have both. Cross-channel is the trend and on-demand. Users keep switching their modes of shopping from desktop to laptop to mobile phones, depending on their convenience and time of the day.
Cross-device attribution should be the main aim of all eCommerce retailers because the more channels a retailer present to the audience, the more outstretched is traffic and sales.
All things considered, be it an eCommerce website or a mobile app, retailers must ensure to launch a customer-centric, seamless, intuitive (with solid codebase) and cost-effective website and mobile app.
Konstant Infosolutions can be a great choice here. They are globally recognized for their experience and expertise in web design and mobile app development. Check out their portfolio here.