Mobile payment systems became considerably more popular in 2015, and research shows that digital wallets in particular attracted by far the most attention. In a study performed by Prime Research and MasterCard, subsequently collated by eMarketer, discussion of digital wallets took up 97% of the social media chat during the last year.
While digital wallets and mobile payments in general have been widely used in Asia for a while, it's only recently the concept has taken off internationally, thanks to the introduction of Apple Pay, Android Pay, and to a lesser extent, Samsung Pay. These digital wallets are all available in the U.S., while the former is in the U.K. now, with the other two expected to follow soon.
Digital wallets make up 97% of the discussion regarding mobile payments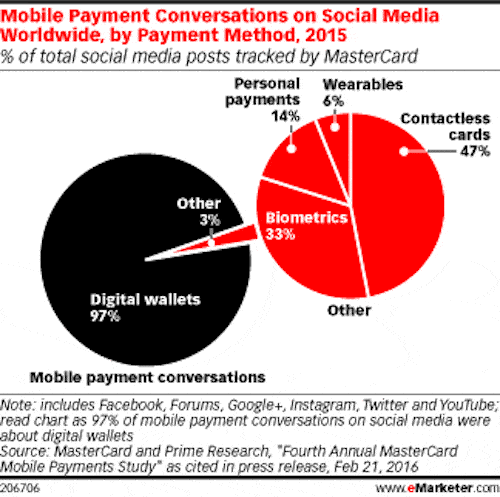 What about the remaining 3%? The research looked into that deeply. Contactless cards made up 47% of that discussion, followed by biometrics with 33%, then personal payments at 14%, and wearables with 6%.
Despite this social media buzz, usage growth in the U.S. isn't that high, with research from Chadwick Martin Bailey showing that in 2013, 9% had used a mobile wallet, which raised to 15% in 2015. The amount of those that planned to use one rose by only 2%, from 20% to 22%.