Dating apps installed on Bring Your Own Device (BYOD) smartphones may violate some company's security and risk policies, a new report has shown. Compiled by Flexera Software, a total of 25 dating apps were assessed — just a small number of the many that are available — including top names such as Tinder, Grindr, POF, Hinge, Lovestruck, and Lovoo.
Dating apps may cause security flags to be raised on BYOD devices, depending on company policy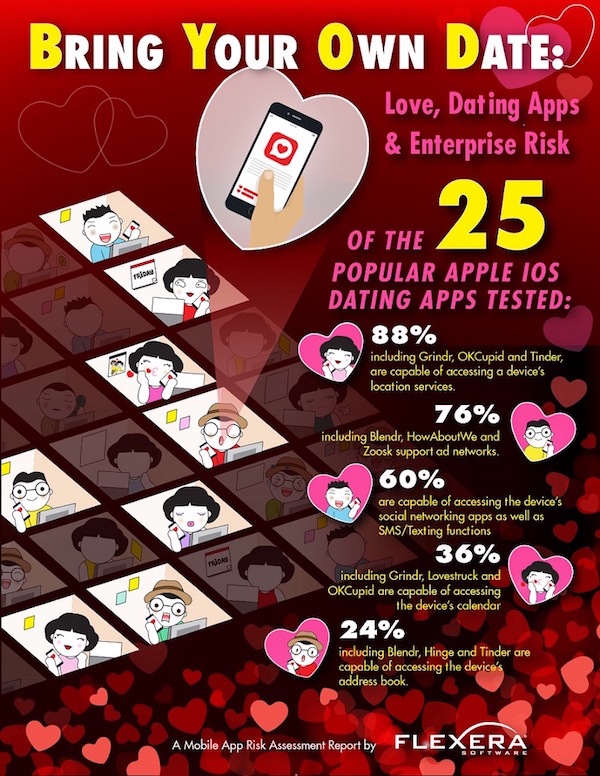 While the apps may not pose a specific security risk, the features which are often key to a dating app's operation could be against BYOD security policies, making them a concern. All apps were tested on iOS, and the following was discovered:
88% use GPS to pinpoint location
60% could access SMS and social networking features
36% required access to the calendar
24% had access to the address book feature.
76% were supported by advertising networks
Flexera tested the apps using AdminStudio Mobile, which is part of its Application Readiness platform, which is used to manage, track, and identify mobile apps for enterprise customers. It also looked at an app's ability to use the telephone app, Bluetooth, and the camera. The results were considerably lower, with only 8% using Bluetooth.
The complete report can be found here, and more information about Flexera Software can be found by visiting its website.