App development technology company Unity has released the first edition of its By The Numbers report, which examines game install patterns, the devices on which they're played, and information about the software that runs on them.
Data collected between the beginning of April and the end of July this year reveals 1.1 billion unique devices were reached by Unity apps, and from just over 174,000 apps, a giant 2.5 billion installations were tracked.
Unity's By The Numbers report shows the reach of apps built using the development technology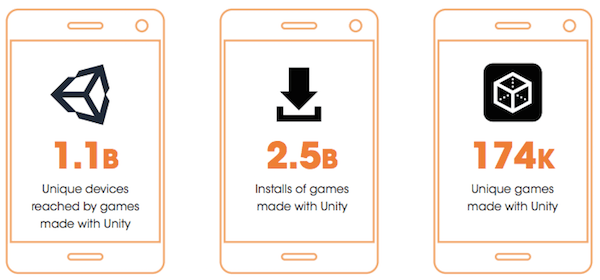 "On average, this number of install events represents about 9 million new devices reached every day and nearly 20 million install events per day," the report states. Android devices were the most popular, taking 74% of all the app installations, leaving 17% for iOS. Unsurprisingly, Samsung and Apple topped the manufacturer popularity chart, but interestingly, China's Xiaomi came second on the Android-specific chart, beating LG, Huawei, and Lenovo.
The U.S. and China hold the top two positions in Unity's iOS and Android install charts

Geographically, users in the U.S., China, and Japan were responsible for 54% of all Unity app installs on iOS, while the top three countries for Android installations — China, the U.S., and Brazil — took 40% of the overall figure.
The report has been created using anonymous data pulled from games built using the Unity platform, and includes a unique identifying number, the model of phone or tablet, the OS, the country where it's located, and more. The complete report is available for download here. To learn more about Unity, visit its company profile here.