IT management platform ManageEngine has released a cloud version of its Mobile Device Manager Plus system, providing businesses with tools to manage mobile hardware that are available at anytime. ManageEngine has also introduced a free version of the platform for accounts with fewer than 25 devices.
The cloud edition contains the following features:
High security for devices and apps
Corporate data stored in containers on both BYOD and business hardware
Exchange ActiveSync support
Secure network access using Wi-Fi and VPN
Updates and compliance reports displayed on an easy-to-use dashboard
App purchase programs to make bulk buys easier
ManageEngine now has a cloud version of its Mobile Device Manager Plus platform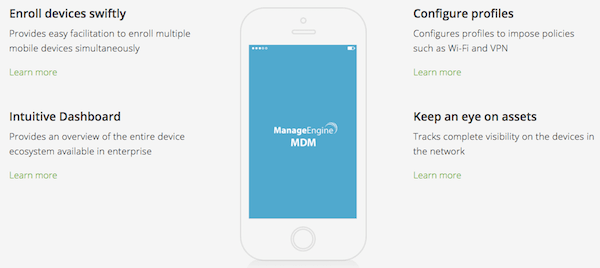 ManageEngine charges $2 per device connected to the professional cloud edition of Mobile Device Manager Plus, and provides a free 30-day trial for teams to try out the software. Alternatively, the standard cloud edition can be used for free, without feature restriction, for businesses with less than 25 mobile devices to manage.
Find out more by visiting ManageEngine's website here.