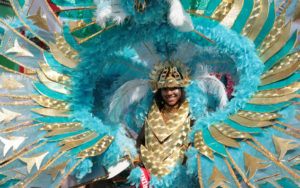 Whoop Whoop the Carnival is Coming to Town – touching down here at Mobyaffiliates in this pre-MWC session.  Unsurprisingly things are a little quieter than normal in the mobile blogosphere with everyone packing their bags for Barcelona.  We do have some first rate submissions though and here they are:
First up Carnival Queen Peggy Anne Saltz who brings her regular video blog providing analysis on the evolving mobile voice market, looking at new developments such as Siri and similar innovations.  There's loads more in this vodcast, which is full of really rich and useful information and discussion so go check it out:
http://www.mobilegroove.com/m-pulse-analysis-how-will-battle-around-mobile-voice-play-out/
Second-up a guest post from Michelle Manafy drawing on her new book, Dancing with Digital Natives, looking at how to motivate the 'Millenial' generation in a world of changing economics, high youth unemployment and rapid change:
http://www.mobilegroove.com/money-isnt-everything-rethink-incentives-to-motivate-millennials/
Second in the ring is Yomi Adegboye from the excellent Mobility Blog.  Yomi has a quick post about his plans to go "mobile-only" and use mobile computing for all his IT needs.  Armed with just an iPad and an assortment of handsets can Yomi stick to this mobile-only regimen?  This blog is well worth checking out for a view of the burgeoning mobile market in Nigeria.
http://mobility.com.ng/2012/02/20/my-mobile-only-experiment-takes-off/
Dave Olsen from the Mobile in Higher Education blog has written all about his experience of responsive mobile design (changing the service to fit the the device or browser) vs server-side detection (serving up something different depending on the device).  Dave links to a number of sources that are currently leading this debate and provides his own perspective on it, based on day to day implementations.  Really a great post with loads of detail but also very readable and informative:
http://www.dmolsen.com/mobile-in-higher-ed/2012/02/21/ress-and-the-evolution-of-responsive-web-design/
The Carnival is truly global this week, with a quick head-up from Dmitry Namiot about an interesting mobile app they've created that blends facebook and google search.  Very innovative and Russia really is a market to watch in terms of mobile innovation:
http://servletsuite.blogspot.com/2012/02/ask-friends-socialize-your-search.html
Last but not least the one like Johnny Evans from Futurity Media has contributed a nice infographic all about NFC, on behalf of the guys at Orange Business.
http://blogs.orange-business.com/enterprising-business/2012/02/infographic-how-nfc-can-change-our-world.html
Post of the week goes to Dave for his truly interesting and detailed post.  Next week the Carnival has no home so give @peggyanne a shout if you want to host.  Otherwise it will be over at Mobilegroove.