The next version of Apple's mobile operating system, iOS 10, has been announced. Billed as the biggest iOS release in its history, there are many new features, an entirely updated message app, and several new opportunities for developers.
Apple highlighted four of the main new developer features during its WWDC 2016 keynote presentation. Notifications are getting a considerable overhaul, with the chance to integrate videos and audio into them, along with live text updates as they're being typed.
An App Store for iMessage will open, ready to deliver apps that work inline with the text, sticker packs, and other services. Rich links will also be displayed, and content can be shared instantly, plus other features include the chance to edit photos, send payments, and play games. All without leaving the app itself.
In iOS 10, iMessage has new features and its own app store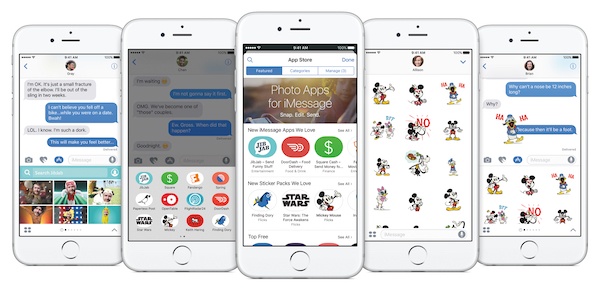 The new sticker feature promises to be easy to use, and simple to integrate for developers. According to Apple, stickers won't require any code, just the relevant image dragged onto the correct Xcode folder.
Siri is now open to developers, so your apps can exploit the virtual voice assistant's talents. SiriKit supports messaging, photo search, and phone records, plus it understands how to process person-to-person payments and make bookings. Using an extension in your app, Siri will deal with the natural language and user interaction.
CallKit is another new addition to iOS 10, and is designed to make VoIP telephony apps appear more native, such as call information showing up on the lock screen in the same way as the standard Phone app, plus the introduction of in-call features, and the chance for users to add the service to contacts. VoIP app calls will also appear in Recents and Favorite tabs.
Apple says iOS 10 is the system's biggest update yet
Finally, Apple Maps will work with apps that provide location-based services, and those which provide local information, such as ride-sharing apps and those which handle restaurant bookings. Apps can be deeply integrated with Maps, and it will recommend relevant apps to users based on where they are.
These are just a few of the new developer features in iOS 10, and the complete list can be explored here. The developer preview is available right now, with a public beta coming up soon, and the final release expected in the fall.