Apple has released the fourth beta version of iOS 8.2 to its registered developers, which provides further access to the Apple Watch's WatchKit SDK for developers to build apps designed to run on the soon-to-be-released wearable. It's released under a non-disclosure agreement, but some details have leaked out already.
For example, it seems Apple will release a standalone Apple Watch app which will be used to pair the device with an iPhone, and to manage installed apps and settings. A screenshot published by 9to5mac.com shows an iOS settings page prompting users to visit the Apple Watch app to pair, rather than only using the standard Bluetooth control panel.
Screenshot showing evidence of a standalone Apple Watch app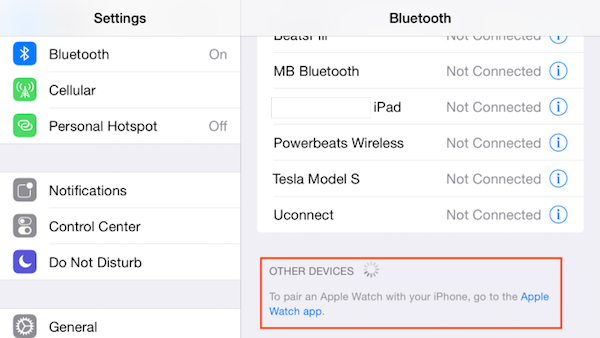 Outside of Apple's announcement in September last year, little is known about the Apple Watch, including the final release date and it's price. Rumors point to a March launch with a starting cost of $350. Its release will likely coincide with iOS 8.2, expected to be the iOS version to bring Watch compatibility to the iPhone, iPod Touch, and iPad.
Apple hasn't discussed whether ads will be displayed on the Watch either. However, that hasn't stopped mobile ad exchange TapSense from announcing what it calls the industry's first programmatic ad platform for the Watch, but it warns because both it and the WatchKit SDKs are in beta, it's functionality is subject to change.
The WatchKit SDK was first released in November 2014, and can be used to build three different types of app – those which display basic information, ones with actionable notifications, and ones which use the Glance feature.