Now the Apple Watch is on sale and the early device shortage is becoming less problematic, so more app developers begin to embrace Apple's first wearable. To help developers better understand how to make the best apps possible for the Watch's small screen and unusual control system, Apple has released its Human Interface Guidelines.
Apple says the Watch is its most personal device yet, and "enables new ways to receive information and to interact with apps." The Human Interface Guidelines provide hints and tips about using the Watch's Force Touch, Digital Crown, and touchscreen controls.
Apple's Human Interface Guidelines provide developers with details on Apple Watch apps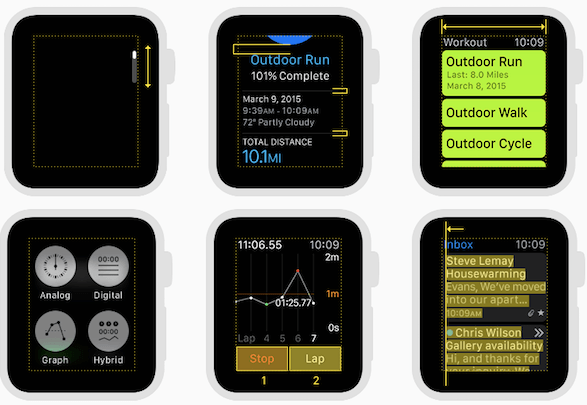 "The best apps," says Apple, "support fast, frequent interactions and focus on the content people care about most." Using Force Touch — which is enabled by pushing down on the touchscreen — and the Digital Crown together is recommended, and is promoted as a way to "blur the boundaries between software and hardware," according to the guidelines. Developers are warned that because the Apple Watch is worn all the time, they should be aware that notifications and interaction requests shouldn't be too plentiful.
Apple also lays down rules for on-screen swipes — horizontal for moving between pages, and vertical for scrolling, for example — and confirms the button below the Digital Crown cannot be accessed by developers, and is only used for the Friends menu.
The guide goes deeper into how developers should approach design elements including card colors, action buttons, and images, plus how to deal with information using either short or long "looks." There is also a section on app screen sizing, how much of the display is used for content, and the best way to layout apps.
You can find the Human Interface Guidelines on Apple's Developer website here.