Apple has made its app analytics platform available to all registered developers, after it started life as a private beta earlier in May. The platform was previously a request-only program, governed by Apple, but now any developer with an iTunes Connect account can use the application.
The app costs nothing extra to use, and is also easy to implement, requiring no extra code. It provides a series of helpful features, including:
The ability to create unique links for marketing campaigns
Track downloads and average spend per user
Monitor downloads based on product page views
Access to Apple's app purchase date data, to help analyze user behaviour
Discover which sources drive the most traffic to your app
See download, usage and revenue data for your app
A complete suite of user engagement metrics — from active devices to number of sessions — to help plan and implement updates and future campaigns.
Apple's app analytics platform provides data for developers not available elsewhere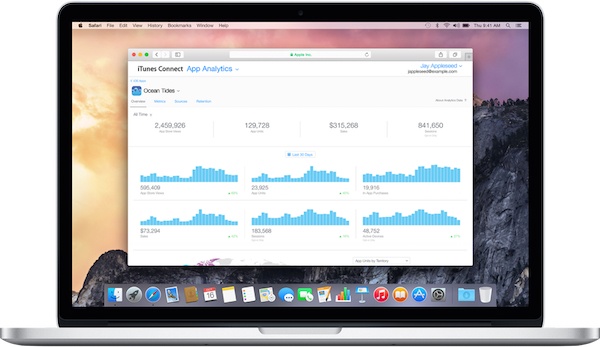 Apple doesn't share its app metrics and user data from the App Store with other companies, making the app analytics tool an essential for many developers. Its release follows the acquisition of Burstly by Apple. Burstly also produces the TestFlight app, which has been steadily updated with new features over the past months.
Developers interested in knowing more about Apple's analytics can read the user guide here, and an FAQ here. Alternatively, if you're a registered Apple Developer, you can sign-in to get started with the analytics tool here.