WWDC, Apple's annual developer conference in San Francisco again brought some exciting news for app developers. All around the WWDC, Apple announced to further improve search algorithm and to enhance app discovery with the help of Search Ads.
65% of all downloads follow an App Store search

65% of all iOS app downloads are results of organic App Store search. This makes the App Store the most powerful place for app discovery. As competition is high (App Store recently reached the 2 million mark of available apps), increasing organic reach and improving keyword rankings tasks can become very hard ones to accomplish. So a lot of app developer's time goes into advertising. Most ads, however, are not that forceful as they should be.
Ads Are More Effective, If They Reach Users In The Right Moment Of Desire
Search ads represent a new way for app developers to advertise their iOS app directly within App Store search results. This means, when the users search, the sponsored ad gets displayed on the top of search results, highlighted with a light blue background to drive new downloads.
The App Store search ads AdGroup compose interface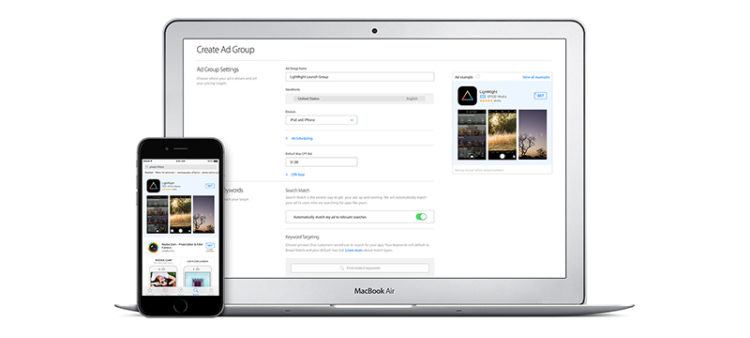 In order to keep user experience as high as possible, Apple promised, that relevance is the main factor for the display of Search Ads. Irrelevant search ads therefore are not displayed to users if the app doesn't relate to the search term.
App Store Optimization Is More Important Than Ever
Search Ad is a very powerful tool to improve discoverability, however it's not a replacement for an App Store Optimization. Apple still takes into account an app meta data and user response to figure out relevance of your Search Ad to user search queries. This makes a regular optimization of keywords, description and title more important than ever.
Read App Radar's recent blog post to find out more about Search Ads in both App Store and Google Play Store.