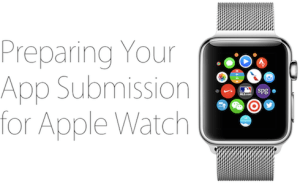 Apple has called for developers to start submitting their apps for the Apple Watch, in preparation for the device to launch just before the end of April. This comes just a few weeks after Apple sent out invitations to developers to start testing Watch apps.
Confirmed via the Apple Developer website, the company asked for apps developed using the WatchKit SDK, along with screenshots, a description, and relevant icon to be put in for review, thus ensuring a wide range of apps will be available for the Watch's release.
There are several Watch-specific guidelines developers need to follow, to make sure they don't fall at the first hurdle in the approval process. For instance, because Watch apps are companion apps to existing iPhone apps, the icons must visually resemble each other, plus keywords used to identify apps are limited to 100, a figure shared between the iPhone and Apple Watch app.
Like all other apps submitted to the App Store, Watch apps will be reviewed by Apple, and must meet rules related to content, design, and technical specifications. Once approved, the app will be pushed as an update to existing users, or made available as an extension for new users. Apple warns there are Apple Watch users already out there – indicating testing is an ongoing process – so Watch apps should be operational ahead of the public release.
App updates have already started to show up inside the App Store, including ones from Twitter, Evernote, WeChat, Instagram, and Uber; most of which had early access to the platform. Now it's open to all developers, so more will certainly appear over the coming weeks. The Apple Watch will go up for pre-order on April 10, and go on sale April 24.