App abandonment has dropped, and user retention is on the rise, but it's not all good news according to the latest study from Localytics. So far this year, the percentage of users that only open an app once has fallen from 25% last year to 23%. Not a massive fall, but an improvement and certainly better than a rise.
The number of users abandoning apps after one use is falling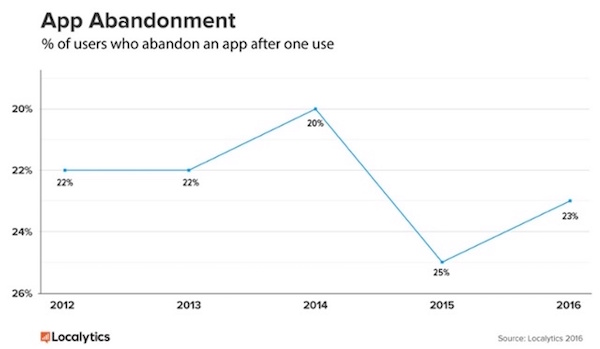 The retention rate, which examines how many app users return to an app 11 times or more, has also seen a boost, going from 34% in 2015 to 38%. This is almost equal to Localytics highest tracked percentage of 39% in 2014. Also in 2014, Localytics had its lowest rate of app abandonment at 20%.
The number of users returning to an app is rising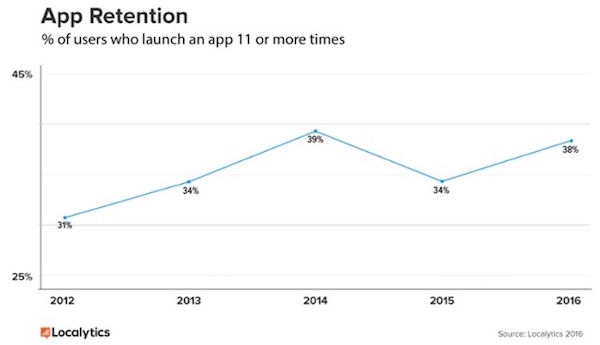 While it's positive on the surface, Localytics is quick to point out that although 38% are returning to apps more than 11 times, this leaves 62% that are not. The report states this is, "not a sustainable business model."
Interestingly, it's shown that iOS is key to this change. Breaking down the numbers to show the Apple operating system's figures, we see iOS retention rate has risen to 36% this year from 32%, and the percentage only opening an app a single time has climbed to 26% from 24%. No individual numbers for Android are provided.
In-app messaging proves popular for returning users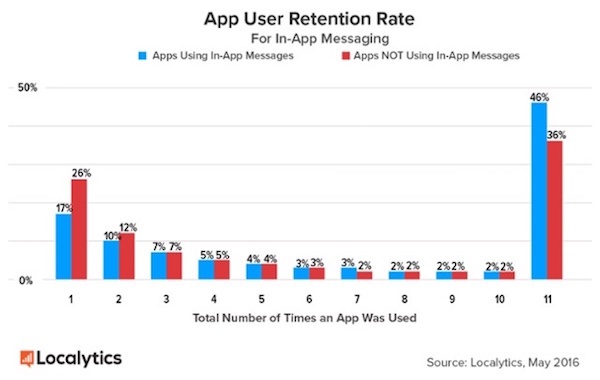 Localytics also indicates in-app message use has helped boost user retention, showing of those apps that used the tactic, 46% returned 11 times or more, while those that didn't only managed 36%.
The study was conducted using data collected from 37,000 apps across more than 2.7 billion devices. Learn more about Localytics app engagement services here.