Vungle is a mobile advertising start-up with offices in London and the US, specialising in localised video advertising across the iOS and Android platforms. Primarily offering HD video ads typically lasting around 15 seconds, which are pre-cached and can be optimised for handheld, mobile and tablet devices; interstitial inventory can also be tapped into for app developers. Vungle is compatible with third party platforms including MobileAppTracking for conversion tracking during campaigns.
For developers, Vungle provides app marketing across a premium inventory of the top 250 iOS and Android apps. The network utilises in-house video production to create campaigns, optimising them to suit target audiences and users. High LTV users are also attracted with video and premium interstitial inventory. For brands utilising the platform, Vungle offers transparent buys and 100% ad visibility to ensure no wasted impressions, and can be fully integrated with third party reporting providers
Pre-cached HD video adverts with targeted delivery
Fully compatible with third party reporting/tracking providers
Transparent buys to reach unique users across all mobile devices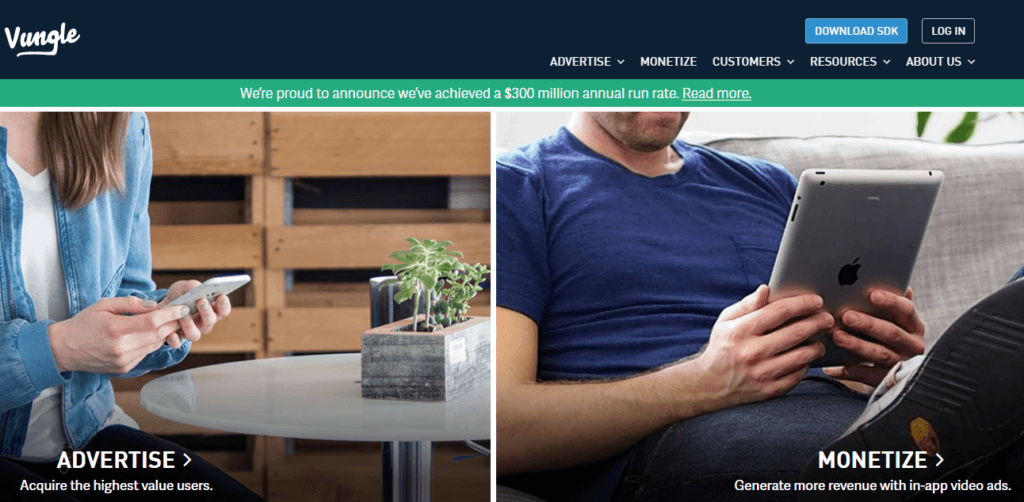 Key Features
Simple to start. Vungle Programatic helps you reach out with DSPs
Data algorithms that allow you to A/B-test ads in real-time
Generate more revenue with Vungle's in-app video ads
Easy to use SDK
Ad placements that allow you to be flexible with formatting
Engage your users with interactive prompts
Drive user engagement with creative ad designs and templates
Access user acquisition and data reports with Vungle's UA data integrations
Expand your global reach
LTV technology optimised to expand your user base
Vungle Offices
China
2704-05, SK Tower,
No. 6 Jia Jianguomenwai Avenue Beijing,
China 100022
Germany
Greifswalder Strasse 212,
10405 Berlin
Japan
Barbizon 72-4F, 5-25-12 Hiroo
Shibuya-ku,
Tokyo 150-0012 Japan
Korea
2F Saerom Bldg. 551 Seolleung-ro,
Gangnam-gu Seoul,
135-916, Korea
UK
Clover House 147-149
Farringdon Road
London, EC1R 3AB
US
185 Clara St #100,
San Francisco, CA 94107,
USA

Key People
Rick Tallman– CEO & Founder of Vungle
Vungle's Jobs and Careers
Vungle lists available jobs and positions here with openings in their offices in San Francisco, Berlin, Singapore and Bejing across roles in Design, Engineering, Marketing, Product, Sales and Talent Operations.
You can find employee reviews of Vungle on the company's Glassdoor profile here.
Sorry, we don't have these details yet. If you are a Vungle representative, please get in touch to add additional information and contact options to your profile.